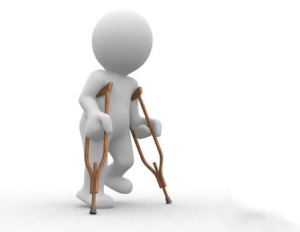 The topic of this blog post is Short Term Disability Insurance. Think of this type of insurance policy as a "paycheck protector." It literally insures a portion of your paycheck in the event that you find yourself disabled and unable to work.
You insure your house, you insure your car… but do you insure your paycheck and income? That's a very important question to ask yourself, because in the event of a disability, you'll want to maintain your standard of living as best you can.
There are two types of disability plans:
Short Term Disability Insurance

Long Term Disability Insurance
There are specific differences between the two. Short Term Disability Insurance is our area of concentration in this blog post. Short Term Disability Insurance means just that: it insures your income/paycheck for the short term.
Typically a short term plan will have a benefit period of between 3 and 18 months. The benefit period is the period of time that your insurance plan will pay you in the event that you become disabled and are unable to work. If you're more concerned about a situation where you'll be off of work for a year or more, you may want to look into a long term disability plan.
The benefit amount (the amount of money you receive from your plan) is dependent upon income. The benefit typically replaces a percentage (or portion) of your wages. In most cases, that amount is between 50%-70% of what you would normally earn. You will not typically find a plan that will cover 100% or more of your income, because there needs to be incentive to go back to work.
Disability plans also have what is called an elimination period. The elimination period is the amount of time that you must wait in order to begin receiving your benefit. For example, if you have a 0/7 (accident/sickness) elimination period, your plan will begin paying you right away (0 days) for an accident, and on the 7th day for a sickness. Typical elimination periods in a short term plan are: 0/7, 0/14, 7/7, 7/14, 14/14 and so on. The elimination period will adjust your premium payment (up or down), based on the amount of time you are willing to wait to receive your benefit.
Another important thing to consider is if you have off-the-job coverage only, or if you are also covered on the job. Most plans are off-the-job coverage only (because worker's compensation typically pays for on the job disabilities). Make sure that you understand where you are covered under your short term disability plan.
A final thing to consider are state disability programs. If your state has a disability program, in most cases, you'll need to factor in the amount of benefit you'd be eligible for from the state if you were to file a disability claim. In California, it's up to ~56% of income. Beyond that, a person is on their own. If a person wants more income protection than what the state is providing, he/she can find a private plan that will help bridge that gap up to ~70% of income. The following states and territories have state disability income programs:
California

Rhode Island

New York

Hawaii

New Jersey

Puerto Rico
That's all for now on Short Term Disability Insurance. This can be a very important concept for many people because it insures your income and your livelihood (paying for rent, mortgages, car payments, child care, groceries, utilities, etc). Make sure to contact us if you have questions.
Thanks for stopping by, we hope you found our information to be valuable. Check back at our blog to get further information about funding healthcare. Also, please share with your friends, clients, colleagues, and family. Here are a few of our other information outlets:
Home Page: https://policyadvantage.com
Twitter: http://www.twitter.com/PolicyAdvantage
Facebook: http://www.facebook.com/PolicyAdvantage
YouTube: http://www.youtube.com/PolicyAdvantage
Pinterest: http://www.pinterest.com/PolicyAdvantage
Word Press (you are here): http://www.policyadvantage.wordpress.com
https://policyadvantage.com/wp-content/uploads/2020/03/Policy-logo-png-1-300x130.png
0
0
PolicyAdvantage
https://policyadvantage.com/wp-content/uploads/2020/03/Policy-logo-png-1-300x130.png
PolicyAdvantage
2013-03-25 06:01:43
2016-08-19 17:33:39
Your Guide: Short Term Disability Insurance