Welcome back to another edition of "Benefits Chalk Talk." In this series at our blog, we provide you with valuable, up-to-date, relevant information about health benefits planning so that you can put the things in place that make the most sense for yourself or your company. At Policy Advantage Insurance Services, we feel that informed consumers can make a really big difference in our industry.
Today we're going to talk a little bit more about the Registered Health Underwriter® (or RHU®) designation. If you've been following along here at the blog, we've talked a little bit about insurance professional designations in the past. Instead of going back through what we covered in that previous blog post, we're going to tell you more about the specific knowledge that a Registered Health Underwriter® has acquired in order to help clients.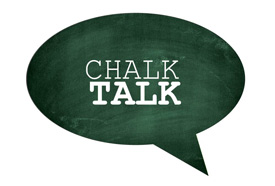 Remember, as we had mentioned in the past blog post, these are robust designations. The holder of these designations has demonstrated a significant and advanced understanding of the concepts which apply. According to NAHU ( the National Association of Health Underwriters):
The Registered Health Underwriter® designation is the undisputed professional credential for persons involved in the sale and service of disability income and health insurance. Individuals earning the RHU designation demonstrate a high level of knowledge about the principles and practices governing the disability income and health insurance business.
Here is some of the specific knowledge that holders of the Registered Health Underwriter® (or RHU®) designation have obtained:
Federal Regulation: Assisting clients with things like COBRA, HIPAA, and ERISA.
Individual Health Insurance: Providing health insurance consultation outside of the workplace (ie: individual and family plans).
Employer Self-Funding: Advanced knowledge about administration, the TPA environment, and stop-loss coverage.
Group Health Benefits: Planning and design of group health insurance programs, benefits structure, tax incentives, Section 125 cafeteria plan administration, etc.
Consumer Directed Healthcare: Explaining how Health Savings Accounts (HSAs), Health Reimbursement Arrangements (HRAs), and High Deductible Health Plans (HDHPs) work together to help consumers retain funds.
Federal and Social Programs: A knowledge of things like OASDI (Social Security), Medicare, Medicaid, FEHBP (Federal Employees Health Benefits Program), TRICARE, etc.
Ancillary Benefits: Vision, dental, and hearing.
Voluntary Benefits: Hospital indemnity, accident indemnity, specified health event (critical illness), cancer indemnity, small face value term life (final expenses protection). Supplemental health insurance fits into this category.
Managed Care Organizations (MCO's): PPO's, HMO's, POS plans, EPO plans, physician contracting, hospital contracting, accreditation, case management, disease management, managed behavioral health, performance based incentives, integrated health care delivery systems (IDS's), hospital networks, physician networks, basic compensation of physicians, medical/surgical utilization, quality management.
Disability Income Insurance: Short term & long term disability.
As you can see, a Registered Health Underwriter® (RHU®) can be a valuable resource. These individuals have a wide variety of knowledge they can make available to you, to help you make good decisions when it comes to health benefits planning.
Thanks for stopping by, we hope you found our information to be valuable. Check back at our blog to get further information about funding healthcare. Also, please share with your friends, clients, colleagues, and family. Here are a few of our other information outlets:
Home Page: https://policyadvantage.com
Twitter: http://www.twitter.com/PolicyAdvantage
Facebook: http://www.facebook.com/PolicyAdvantage
YouTube: http://www.youtube.com/PolicyAdvantage
Pinterest: http://www.pinterest.com/PolicyAdvantage
Word Press: http://www.policyadvantage.wordpress.com
https://policyadvantage.com/wp-content/uploads/2020/03/Policy-logo-png-1-300x130.png
0
0
PolicyAdvantage
https://policyadvantage.com/wp-content/uploads/2020/03/Policy-logo-png-1-300x130.png
PolicyAdvantage
2013-08-26 07:51:00
2016-05-28 15:59:53
Benefits Chalk Talk: Registered Health Underwriter® (RHU®)